Venetian

One of the most popular blind types venetian blinds are extremely versatile. They can be raised to let light in, lowered and closed to provide full shading or angled to the perfect position. Available in aluminium or wood and different slat widths.
Aluminium Venetian Blinds blinds combine affordability with modern design. Aluminum mini blinds come in a variety of sizes that fit most standard windows. Although these blinds are not as durable or versatile as other alternatives, they do provide clean styles as a modest price.
Mini Blinds come in a wide variety of colors that can match any room or décor.
Venetian blinds consist of horizontal, overlapping slats that are generally either made of aluminium or timber. The slats are suspended from a headrail and supported by ladder braid or ladder tape. Aluminium slats, for internal use, are available in 15mm or 16mm, 25mm, 35mm, 50mm and 80mm widths. Aluminium slats are also produced in 65mm and 80mm widths primarily for external use but can also be used internally. Timber slats are available in 25mm, 50mm and 60mm widths.
Find more information on aluminium venetian blinds here.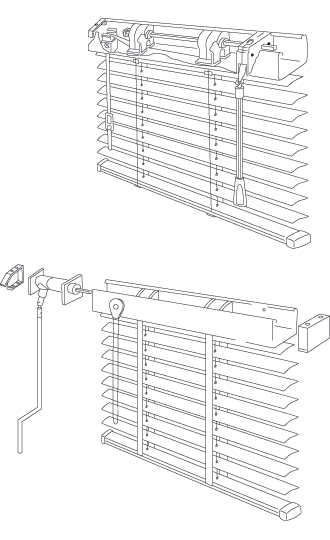 Types and operation
Micro blinds - Often used to describe 15mm aluminium slat venetian blinds.
Mini blinds -Often used to describe aluminium venetian blinds using 25mm wide slat. Slats can be plain, printed or even perforated.
Dual control - Dual control blinds have a cord to raise and lower the blind and either a cord or rod to tilt the slats.
Mono control - Mono control blinds have a cord or rod that both raises and lowers the blind and tilts the slats.
Electric control - Electric operation is available for venetian blinds of all slat sizes. The motor is located in the headrail.
Audiovisual - Provides room-darkening effect by increased slat overlap and has channelling to both sides plus top and bottom.
Between glazing - Special fittings are available allowing blinds to be installed between glazing with remote control facility (see mid-pane blinds).
Perforated - Aluminium slat available in all slat widths except micro provides sun-screening protection without eliminating the external view.
Components
Slat - Aluminium with stove-enamelled paint finish, timber or MDF composite.
Ladder braid - Polyester braid with cross-ladders to support the slat and control the tilt of the blind.
Ladder tape - Woven cotton or polyester tape in 13mm, 25mm and 38mm widths with cross ladder to support the slat and control the tilt of the slat.
Cord - Made from polyester to raise and lower the blind.
Rod - Acrylic clear wand, steel or aluminium with PVC sleeving used to adjust the angle of the slatting.
Cord lock - Locking mechanism for the lift cord to secure blind in raised position.
Tilter - A geared drive to adjust the angle of the venetian slatting.
Manufacturers
Luxaflex
Stevens Scotland
Louvolite
Eclipse Blind Systems
Arena